Every character has a story #40: U+202a, that control freak of a character!
by Michael S. Kaplan, published on 2013/02/04 07:01 -05:00, original URI: http://blogs.msdn.com/b/michkap/archive/2013/02/04/10390774.aspx
---
Now it was November 20th of last year, about the time that Palernmo the Douche was getting me kicked out of nursing hone rehab (more on that another day!), when I was sent a very cool tweet:
I promised myself I'd get into this some day.
As it turns out, today is some day!
The strip: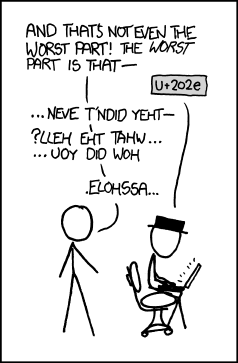 I'll admit as an old Unicode guy I've had nightmares not unlike this in the past, where especially these characters:
have wreaked havoc in both plausible and implausible ways (sometimes with Freddy Krueger narrating, sometimes with Mark Davis or Asmus Freytag or Ken Whistler!
Thankfully #1, if the real world ever got this crazy, it could never happen, as UAX #9 indicates:
All of these codes are limited to the current paragraph; thus their effects are terminated by a paragraph separator.
Whew! It's how I know it's a dream: the ENTER key doesn't fix it all... :-)
Anyway, thanks, Hafthor. Sorry it took so long to cover it!
---
Joshua on 4 Feb 2013 10:21 AM:
The LR/RL stuff in Unicode is insane. Too bad they never got all the bugs out of autodetect.
---
Please consider a
donation
to keep this archive running, maintained and free of advertising.
Donate €20 or more to receive an offline copy of the whole archive including all images.